Message from the President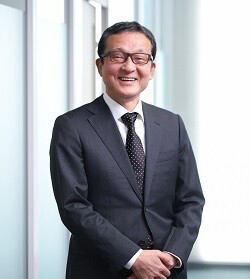 Contributing to society by supplying products created to satisfy
the needs of consumers
Kuraray Trading
Kuraray Trading Co., Ltd. is a manufacturer-affiliated trading company which not only markets a broad range of high-functionality materials of the Kuraray Group but also provides customers with high value-added processed products. It deals with a wide variety of products, including fiber materials, textiles, resins, chemical products, and supplies those products to the whole area of Asia, including China, Korea and Vietnam, not to speak of markets within Japan.
Based on the corporate philosophy of the Kuraray Group advocated from its foundation: "For people and the planet - to achieve what no one else can," the Group has continuously been working on product development and activities that would promote the sustainability of the earth and society, since before the current world trend of increasing environmental awareness. We are committed to proactively contributing to society through the supply of products and services with small environmental load also in the future.
What underpins a corporate organization is human resources. Kuraray Trading engages many individuals as employees with diverse cultural backgrounds from Asia and other overseas countries. Opportunities and venues for overseas personnel's activities are expanding rapidly. We will also actively promote the recruitment of female personnel as well as the appointment of female managers.
The social contribution and human resources development/recruitment stated above will constitute the twin pillars of the further growth for which our company is aiming.
Your continued support and patronage in the future would be greatly appreciated.
Takeshi Yamada
President and Representative Director