Message from the President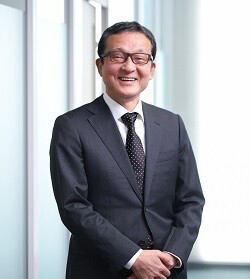 Contributing to society by supplying products created to satisfy
the needs of consumers
Kuraray Trading
Kuraray Trading Co., Ltd. is a trading house with some capabilities of a manufacturer—we not only sell a diverse range of high-performance products of the Kuraray Group, but also provide new products modified from such existing products to meet our customers' detailed needs. Our strengths lie in accumulated expertise based on in-depth mastery of the products and our profound knowledge of manufacturing, backed by Kuraray's own advanced technology development know-how. Based on these strengths, we make daily efforts to deliver to our customers highly sophisticated products and solutions that cannot be created with manufacturing and marketing capabilities alone.
For FY 2015–2017, our three-year action plan, we will launch a new medium-range management plan called GS-STEP, in line with the Kuraray Group's Long-Term Corporate Vision, which shows the direction in which the Group should head over the coming years.
Under GS-STEP, which was formulated based on key strategies of the previous medium-range management plan called GS-III, we will employ the following four management strategies:
1. Gain access to growth markets mainly in Asia;
2. Establish/expand overseas business sites;
3. Provide new earth- and human-friendly products to the market; and
4. Promote corporate compliance management and ensure that an effective risk management system is in place.

By implementing these strategies, we will pursue our sustainable growth through social contribution.
Our social and economic environment has become dramatically globalized over the past few years. Accordingly, our needs have become more diverse and the speed of new product and service development has dramatically increased. Against such a backdrop, to ensure our sustainable growth, we need more than ever to collaborate and partner with our customers and suppliers who are supporting us. Based on this recognition, all employees and directors, including myself, of Kuraray Trading are determined to make every effort to serve our customers with even greater sincerity, think more from customers' perspectives, and keep on growing together with our customers.
In this endeavor, I sincerely look forward to your continued support and cooperation.
Kenzo Murai
President