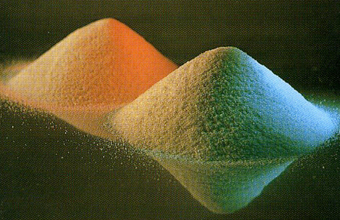 In this business operation, Kuraray Trading engages in the marketing of resins and other related and peripheral business operations, centering around Poval, the principal business operation of Kuraray Co., Ltd. The Company offers the world's top-class solutions and products (functions, quality and service) in industries including information media, chemicals, automobiles and IT. In Poval resins, the Company cooperates with the world's top maker Kuraray to add value to the technology and expertise it had accumulated and deliver and propose products (functions, quality and service) a step ahead of customer needs.

Leading applications
Fiber processing (sizing) agents
In step with advances in loom speed and increased density and performance of fabrics, the Company offers the composite sizing agent "Kuraray Size" to offer solutions and technical services to meet client needs.
Products

KURARAY POVAL
Adhesives
Taking advantage of its performance not typical to synthetic resin, dissolving in water and forming a strong film after drying, it is being used chiefly as stabilizer (especially for wood adhesive) for vinyl chloride emulsions.
Products

KURARAY POVAL
Paper processing agent
It is being used widely for IT-based paper applications such as inkjet printing paper, thermosensitive paper, casting paper, etc., as coating and dispersing agents.
Products

KURARAY POVAL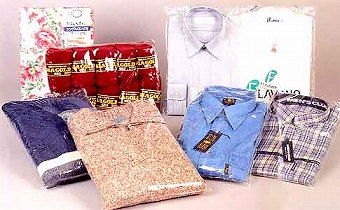 KURARAY POVAL film recognized as being a top-class product in the world for nearly all industries including construction materials, textile products, IT applications, agricultural products, etc., is offered by the Company. Amid its aggressive effort to expand globally, the Company is exploring into new applications on the film, offering products (functions, quality and service) one step ahead of client needs and offering solutions (as solution provider). Furthermore, the Company plans to secure a stable supply of Poval film for optical applications, for which global demand is growing rapidly, for use as LCD reflectors.

Leading applications

LCD reflectors
The product is being used as reflectors for liquid crystal displays.
Products

Poval films

Textile product packaging
Making use on its outstanding transparency, luster and softness, it is being used as packaging film to enhance the beauty and clarity of color of fabric products.。
Products

Vinylon film

Water-soluble film
Its distinctive characteristic of dissolving quickly in water is being used in a variety of scenes, including applications as powder packages and agricultural uses (seed belt).
Products

Poval films
Demolding
It is being used in the molding of artificial marble, water tanks, bathtubs, sea vessels, motor vehicle components, etc., due to its outstanding demolding characteristic with thermal-hardened resins and acrylics, such as unsaturated polyester, epoxy, etc.
Products

Poval films