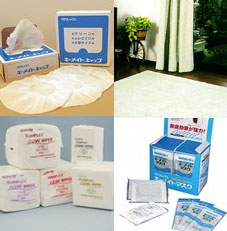 The range of applications in materials and products in this business operation is extremely wide, with many items actively used in everyday living. Examples are curtains, chair upholstery, bedding and other interior items, as well as upper and inner sole materials of sports shoes. In motor vehicles, our materials are being used for car seats, air bag reinforcement fabric and other interior materials, as well as nonwoven fabric for noise absorption and hook-and-loop fasteners. Furthermore, the Company provides numerous fiber materials and products used in industrial, manufacturing, and medical applications, including masks and wiping cloths. Kuraray Trading plans to further expand the range of goods in this extensive business field in order to strengthen its business foundation and achieve further globalization of its operations.

Leading applications

Sports shoes
The Company offers sports footwear manufacturer materials represented by ASTRINO, a unique material of 3-layered mesh structure known as double-russell. Due to its outstanding permeability, quick-drying feature and cushion, as well as durability and lightness, it is best suited as footwear material.