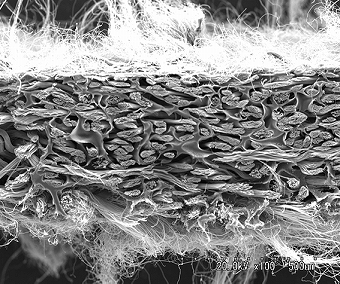 CLARINO is a long selling artificial leather that is used in various applications in Japan and other countries. Beginning with schoolbags, shoes and gloves, its uses have grown rapidly in variety and now include sports equipment and industrial applications. Kuraray Trading plans to pursue further growth of CLARINO sales and open up new applications. By managing its global munufacturing through creation of marketing and processing operations in Japan and elsewhere, the Company is pursuing development of products with functions and services conceived from the customer standpoint and the realization of greater customer satisfaction. Furthermore, marketing research is being conducted on the development of environment-friendly material, to enhance its value from function and fassion aspect.

Leading applications

Men's & women's footwear
CLARINO was first used in leather shoes. It is said that if artificial leather can be used for footwear, which is one of the most difficult leather products to be manufactured, application to other goods become possible. The product has gained recognition for the smooth surface texture similar to natural leather, as well as its soft hand-feel. In addition, it is acclaimed for its outstanding functions, such as colorfastness and permeability.
Products

CLARINO / TIRRENINA / PARCASSIO

Schoolbags
The material is being used for schoolbags, making use of its smooth surface, flexibility, lightness and durability.
Products

CLARINO